From Elizabeth Fredenburg...
My partner and I again want to thank The Pink Bracelet Fund™ and Olivia Cruises for sponsoring the "Enter to Win" contest for the cruise! We had an absolutely great time.
This was our first cruise experience but I'm sure it won't be the last. There was so much entertainment on the cruise it was hard to decide what to do. Melissa was out of this world! She totally rocked!!! It was so great to see her perform in person again. I was so wrapped up in seeing her again that I didn't even notice that her wife Tammy along with Rosie & Kelly O'Donnell were also there. Someone told us a few days later that they were sitting just a few rows in front from us. We were not able to get any pictures of Melissa's show though because she had asked that no pictures or audio be taken. We can tell you firsthand though that she is back! Each show was just over one hour long, which is never enough of Melissa, but will have to do until she tours again.
All of the entertainers were top notch. We have never laughed that hard or that much in our lives. Olivia also has an Oldywed-Newlywed game on the cruise. Suzanne Westenhoefer was the MC and it is a must see! Two of the women that dined with us were part of the "newlyweds". Let me just say that after 15 years with my partner, I don't think we could have answered the questions they did.
Olivia also has an Olivia Idol contest during the cruise. All of the contestants were extremely talented! In the end it was a tie. One of the lucky ladies was a young woman who dined with us named Erica! Amy Boyd was the MC for the Idol contest. Let me say, if you have never seen Amy Boyd perform, you are missing the show of a lifetime. She is an extremely funny comedian.
Along with all the great performers there was also the second Women's Leadership Summit during the cruise. It was quite empowering and inspiring to listen to these great women speak.
The weather was perfect for the week of the cruise. Since we are from Northern New York, the warm weather was a very nice treat after a long winter. The islands we visited were quite unspoiled in their beauty. Some day we hope to visit them again.
Olivia, Holland America and the crew of the MS Westerdam did a wonderful job of giving us a vacation of a lifetime. Thanks to all involved!
Sincerely,
Elizabeth Fredenburg & Lisa Parker

---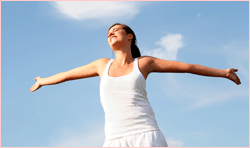 For those who have survived and for those who are currently battling breast cancer, we hope these articles and stories will help you. We will be adding items of interest periodically. Keep checking back. You may share your stories by
contacting us.
To view the Survivors Corner
click here
.