by April Wilkerson
The Journal Record January 14, 2010
Dr. Elizabeth Jett, director of imaging at the University of Oklahoma Breast Institute. (Courtesy Photo)

OKLAHOMA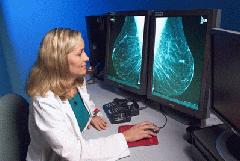 CITY – For a woman who just had a normal mammogram, her physician's parting words of "see you next year" have become standard. But over the last few months, doctors and patients have been wrapped up in a firestorm of controversy following federal guidelines that disputed their belief in the frequency of mammography screening.
In November, the U.S. Preventive Services Task Force issued new guidelines that recommended women at average risk of breast cancer don't have to go for routine screening until age 50, instead of the current standard of age 40. In addition, the group recommended that women ages 50 to 74 can get screened every two years instead of annually, and that self-breast exams were not helpful in detecting possible cancers.
Following worries that insurance companies would use the guidelines to scale back their coverage of mammograms, the U.S. Senate approved an amendment just before Christmas that promises mammogram coverage starting at age 40. It's not known whether the amendment will stay in the final bill.
But the uncertainty has already been created, said Dr. Ann Archer, medical director of the Integris Comprehensive Breast Center of Oklahoma, and she and many of her colleagues have been vocal in their opposition.
"It's confusing a generation of women in their 40s and 50s," Archer said. "For these guidelines to come out now, when our strategy in medicine is supposed to be preventive, is ridiculous."
Doctors can counsel their patients individually about their opposition to the guidelines, but it's the women they don't know that causes more concern. Dr. Elizabeth Jett, director of imaging at the University of Oklahoma Breast Institute, said she's afraid the guidelines will affect women who are reluctant to have a mammogram for whatever reason.
"I'm worried that it will be an excuse for them not to come in," Jett said. "It's a way for them to rationalize, 'These people say I don't really need a mammogram, so I won't get one.'
"But 25 percent of the cancers we diagnosed in 2009 were in women under age 50," Jett said. "That's a significant number of women who developed breast cancer before age 50."
Both physicians disagree not only with the task force's recommendations, but with the rationale behind them and the process that put them together. The task force was comprised of federally appointed doctors and nurses who are not directly involved in the treatment of breast cancer, Archer said, and the process was carried out without peer review and with studies that are "highly suspect."
One of the task force's arguments was that cancers are being caused by the radiation used during mammography screening. Archer said that's not true. "The radiation you receive from mammography screening is comparable to the radiation you get flying from New York to L.A.," Archer said. "It's background radiation."
Another impetus for the guidelines was that needless stress is being caused by "false positives" when women undergo mammograms. But those false positives come from a screening, not a diagnosis, Jett said. The stress that women feel after an abnormal mammogram pales in comparison to the stress of having advanced-stage breast cancer, she said.
Archer also argues that self-breast exams are far more important than people realize. She sees patients every day who have detected a change in their breasts, and that change ends up being cancer. "You know your body better than anyone else," Archer said. "You have a fingertip memory. Medical professionals can be extremely arrogant in thinking that a layperson can't possibly pick up a cancer. I disagree."
In the cost assessment of prevention vs. treatment of cancer, there's no comparison, Archer said. And early screening is the only way to detect many cancers that are "mean and fast-moving," she said. About 70 percent of women diagnosed with breast cancer have no family history of it.
"When catching a stage one cancer, the costs associated with treating it are one-tenth what it would cost to treat someone with more advanced cancer," Archer said. "The only way you pick that up is through screening.
"When I tell women they have cancer, I can honestly say to her, 'You're going to be fine. I'm not giving you a death sentence.' But when you get someone with advanced cancer, that's not what you're saying." Jett said that although the industry may change what types of screenings it pays for, such as ultrasound, she believes that mammography will be covered for a long while. "Because of the grass-roots efforts that women in this country have – women in this country buy into the importance of mammography – I think mammography will be one of the last things to go," she said.

---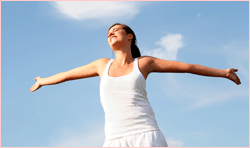 For those who have survived and for those who are currently battling breast cancer, we hope these articles and stories will help you. We will be adding items of interest periodically. Keep checking back. You may share your stories by
contacting us.
To view the Survivors Corner
click here
.