On September 29th in New York, NY and on September 30th in Washington DC, I had the privilege of attending the Pinktober events sponsored by the Hard Rock Café to benefit The Breast Cancer Research Foundation and the Caron Keating Foundation. I am attaching my experiences below, I hope you enjoy this review.
I had reservations about attending Pinktober due to the fact that I had taken so much time off from work for the Live & Alone tour this summer. However, I am ever so grateful that I decided to be a part of this special travel package. It was an incredible and moving experience and one that I will not soon forget.
It all started in New York at the Hard Rock Café where we were ushered into the venue to take our seats for Melissa's performance and question and answer session. She took questions about her breast cancer diagnosis and treatment and discussed her future plans. Additionally, she performed four songs and the crowd loved every one of them.
We were then taken to JFK airport where we would board Delta Airlines Pink Plane that would take us to Washington DC. Little did we know as we arrived at the gate what an experience this plane ride would be. The departing gate was decorated with pink balloons and its own pink carpet. And as Melissa talked to the press, we snapped pictures and were in awe of all that was going on around us. On the plane, there were a mix of Hard Rock and Delta employees who were breast cancer survivors, representatives from the Breast Cancer Research Foundation and finally, the Melissa Etheridge fan club. My seat mates were both Delta flight attendants who were survivors, and we had plenty of stories to share. The flight attendants on this special flight were Delta executives who kept the drinks coming and the spirits high. When Melissa came out to perform "I Run for Life," the plane went crazy.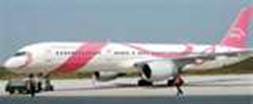 I had a personal experience that I was encouraged to share. As some of you may know, I was one of the original founders of The Pink Bracelet Fund, which was formed in October 2004 when Melissa announced her diagnosis of breast cancer. All of the fans pitched in and we made an immediate impact by selling 20,000 pink bracelets in just a few weeks time. Although, The Pink Bracelet Fund has had its ups and downs, our mission has never changed. Our mission is to raise much needed funds for breast cancer research in Melissa's name and to raise awareness of breast health issues. We just celebrated our 5th year anniversary and have sold 88,000 bracelets to date and donated $210,500 to research programs. We are but a small player in the breast cancer fundraising effort, but it is exciting to know that just maybe those dollars we are raising could be the dollars that fund that bit of research that ends breast cancer forever. Luckily, I was able to share the news with Melissa's manager, Mr. Bill Leopold, that TPBF had just donated another $7,500 to the BCRF.
During the Pink Plane flight, Mr. Leopold spoke to everyone thanking various individuals including Steven and Stephanie along with Marc and Cyndy from Fan Asylum. He then asked me to stand and announced to everyone The Pink Bracelet Fund's recent donation to the BCRF. It was absolutely unexpected and it was such an honor to stand among all of those breast cancer survivors on a pink plane. It really meant a lot to me and made my work so much more important. Over the years, I have heard many stories from survivors and from those currently battling breast cancer. It is unreal how many people that breast cancer has affected. Everyone seems to know someone who has been touched by it. Additionally, I have heard from individuals who are currently battling breast cancer and are simply seeking help to pay their utility bills due to their treatment costs.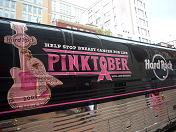 In Washington DC, we attended the symposium at the Hard Rock Café. Once again, we were ushered in to take our seats while we waited for the panel to enter. I was very fortunate that Mr. Leopold introduced me to Ms. Myra Biblowit, the President of the BCRF. I was able to express my gratitude for the work that she does and tell her a little about the work The Pink Bracelet Fund does.
The panel was introduced by Ms. Evelyn Lauder, the Founder and Chairman of the BCRF. The symposium panel was made up of several distinguished researchers who are on the front line of breast cancer research. They spoke of how their hopes are to make breast cancer a thing of the past, a disease that no longer exists much like tuberculosis. They spoke of identifying a vaccine similar to the cervical cancer vaccine that will make breast cancer a thing of the past. The point being is that important work is being done in the research field, so fundraising dollars are more important than ever.
Melissa spoke of making changes and that everyday people can make a difference through their choices. I interpreted this to mean that by making a choice to spend your money on healthier products, for example, you are sending a message to a company that you have chosen to take that healthier choice. When that company's bottom line is affected by these choices, then the message has been received and money may be spent on making those healthier products. Melissa also used this analogy to describe the current state of the music industry, which was very interesting. Finally, Melissa has always spoken of diet and nutrition and how important both are to your health. Many attendees had life changing moments when hearing the panel speak; it made them wonder how they could make that change. For me personally, all I can say Melissa is that I am trying to make that change, I really am. I am grateful that I was able to experience this package with such great people and I thank Fan Asylum for the opportunity. I am proud to be a small player in the fundraising effort, it is more important now than ever before.
Karen
Founder
The Pink Bracelet Fund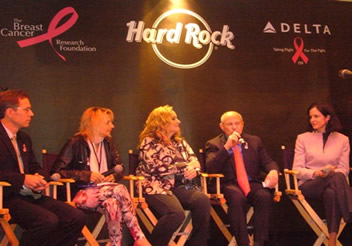 From the Breast Cancer Research Foundation website:

The symposium discussion (in Washington DC) will begin, on the topic, "Breast Cancer and Creativity". The objective of the symposium is to present an educational forum with prominent researchers and survivors to convey the most current information on breast cancer prevention and treatment. The panelists will discuss the role of creativity in curing and dealing with the disease. The audience to include local community groups, students, thought leaders, government officials, and the Melissa Etheridge fan club.

A panel of experts (BCRF-funded researchers), pictured above, and survivors will be introduced by Evelyn Lauder, BCRF Founder and Chairman, including:

Dr. Larry Norton, Director of Breast Cancer Programs at Memorial Sloan-Kettering Cancer Center; Scientific Director of The Breast Cancer Research Foundation

Dr. Funmi Olopade, Walter L. Palmer Distinguished Service Professor of Medicine at the University of Chicago

Dr. Susan Domchek, Associate Professor of Medicine, Abramson Cancer Center at the University of Pennsylvania

Dr. Robert Vonderheide, Associate Professor of Medicine, Abramson Cancer Center at the University of Pennsylvania

Marisa Acocella Marchetto, Survivor, Cartoonist, Author of "Cancer Vixen", a successful book and soon to be movie about how to face breast cancer with courage and humor

Melissa Etheridge, the highly acclaimed musician who went public in 2005 with her battle with breast cancer